Batman: Arkham Trilogy coming to Nintendo Switch on October 13th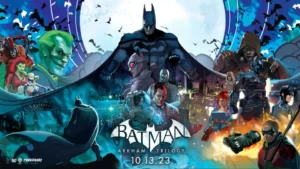 In June, Warner Bros. Games disclosed that the Batman: Arkham Trilogy would be released on the Nintendo Switch during the autumn season. Presently, an exact date has been announced. The compilation of Batman: Arkham Asylum, Batman: Arkham City, and Batman: Arkham Knight, along with the add-ons for all three games, will be available on the Switch on the 13th of October.
Turn Me Up Games, the company that ported of Tony Hawk's Pro Skater 1+2 and It Takes Two to the Switch, was responsible for handling the ports of the highly acclaimed Batman series. The trilogy commenced in 2009 with Batman: Arkham Asylum, featuring an innovative storyline that confronts the Dark Knight with a host of his most formidable adversaries. The Joker masterminds a scheme to seize control of Arkham Asylum, while Batman must also contend with the likes of Harley Quinn, Bane, Killer Croc, Poison Ivy, and Scarecrow.
Experience Gotham City in a whole new way and become its ultimate protector when Batman: Arkham Trilogy comes to #NintendoSwitch on October 13th!

🦇: https://t.co/ziD5dERTYP pic.twitter.com/Ofdm9aB993

— Nintendo of America (@NintendoAmerica) August 15, 2023
Batman: Arkham City, the 2011 sequel, allow the player explore all of what Gotham city itself has to offer introducing more classic villains including Mr. Freeze, Two-Face and The Penguin.  followed up its previous two games in 2015 with Batman: Arkham Knight, which has a transformable Batmobile you can drive through the open world.
The robust and intense combat sequences are a prominent feature in three games, whereas the stealth and puzzle mechanics offer a diverse gameplay experience. For those who have not yet indulged in these games and are admirers of the Dark Knight, they are certainly worth exploring. However, it is pertinent to mention that these games may be available at a reduced price on alternative platforms, at least for the foreseeable future.
Regardless, the Batman: Arkham Trilogy, whether one is a novice or a returning player, may serve as a means of passing time until the release of Rocksteady's forthcoming game, Suicide Squad: Kill The Justice League. Due to a negative response to an extensive gameplay preview, Rocksteady and WB Games have postponed the aforementioned title from May to February of the following year. The original release date for Suicide Squad: Kill The Justice League was slated for 2022.