Final Fantasy Pixel Remasters have now reached a total of 3 million copies sold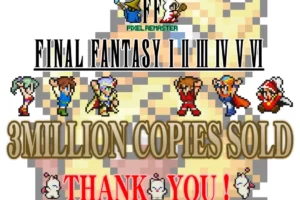 The Final Fantasy Pixel Remasters, which have been developed by Square Enix, have garnered immense popularity since their launch on various consoles and PC. Initially, these remasters were exclusively available on iOS and Android platforms, but they can now be accessed on the Nintendo Switch and other platforms as well.
These remasters encompass the first Final Fantasy game to the critically acclaimed Final Fantasy 6, and are considered the most optimal way to experience the classic Square Enix RPGs. They can be purchased separately or as a bundle. Recently, Square Enix announced that they have sold over three million copies of these remasters worldwide. Interested individuals can purchase the Final Fantasy Pixel Remasters from the Nintendo eShop or their preferred retailer. In the meantime, do take a look at the new artwork commemorating this sales milestone.
A victory fanfare awaits!

The Final Fantasy Pixel Remaster series has now reached 3 million copies sold across PlayStation 4, Nintendo Switch, Steam, and mobile!

Thank you so much for your support and for sharing this EXP with us. pic.twitter.com/crBF2gXlcA

— FINAL FANTASY (@FinalFantasy) September 5, 2023