Pilotwings 64 Coming Tomorrow on the N64 Console for Nintendo Switch Online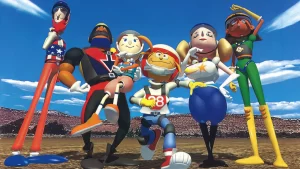 The N64 flight sim will join the service on October 13 and will be available to Switch Online Expansion Pack subscribers.
Pilotwings 64 was a launch title for the Nintendo 64 in all regions and was produced by Shigeru Miyamoto and Genyo Takeda.
Like its SNES predecessor, the game was notable for making the flight sim genre more easily accessible to console players, with simpler controls and engaging tasks.
Players take control of a gyroplane, a jet pack and a hang glider as they explore four different islands.
Arguably the most well-known of these is Little States, which is a miniaturized version of the US, complete with Mario's face in Mount Rushmore (crashing into it turns him into Wario).
When it comes to Switch Online next week, Pilotwings 64 will be the 19th game released on the N64 service in the west, following the addition of Wave Race 64 in August, Pokémon Puzzle League in July and Pokémon Snap in June.
Once it's added, the full list of N64 titles on the service will be as follows:
Dr Mario 64
F-Zero X
Kirby 64: The Crystal Shards
The Legend of Zelda: Majora's Mask
The Legend of Zelda: Ocarina of Time
Mario Golf
Mario Kart 64
Mario Tennis
Paper Mario
Pilotwings 64
Pokémon Puzzle League
Pokémon Snap
Sin & Punishment
Star Fox 64
Super Mario 64
Wave Race 64
WinBack
Yoshi's Story
Switch Online's Expansion Pack tier launched in October 2021 alongside a library of Nintendo 64 games. This was initially met with frustration from some players, due to emulation issues and a lack of features including button mapping.
However, regular updates to the service have seen the emulation improve, and now most major issues have been remedied.